Sponsorlu Bağlantılar

Sevdiğiniz bir yemeğin İngilizce tarifi
Okuldaki öğrencilerimizin en çok zorlandığı derslerin başında İngilizce dersi geliyor. İngilizce derslerinde ise öğretmenlerimizin sıklıkla verdiği ödevlerden bir tanesi de "İngilizce yemek tarifleri." Öğretmenlerimizin proje ödevi olarak ise "Sevdiğiniz bir yemeğin İngilizce tarifi"ni veriyor.  Öğrencilerimiz ise İngilizce yemek tariflerini ararken veya yaparken zorlanıyorlar. Biz de evvel cevap ekibi olarak bu konuda yardımcı olmak istedik.
İngilizce Yemek Tarifleri: Hearty Potato Soup
This is one of my Mum's favourite recipes that I've inherited from her. I always make a big batch so I've got some in for lunch, light supper or the kids' tea. It is also perfect for a dinner party starter as it can also be 'pimped up' by adding some homemade croutons, a splash of sherry and some cream if you want to indulge.
INGREDIENTS:
450g Maris Piper potatoes, peeled
1 tbsp olive oil
20g polyunsaturated margarine
1 large onion, chopped
2 cloves garlic, crushed
2 bay leaves
1 tsp Dijon mustard
850ml hot vegetable stock
150ml milk
Chopped chives, to serve
METHOD:
Heat the olive oil and butter in a large saucepan. Once the butter has melted, add the onion and bay leaves. Sauté for about 5 minutes until the onion has softened, but not coloured.
Meanwhile cut the potatoes into rough 2cm pieces then add to the pan along with the garlic. Stir to coat in the butter then cover with a lid. Cook over a low-medium heat for about 8 minutes stirring once or twice to prevent the potato sticking to the base of the pan.
Stir in the mustard and pour in the stock, then bring to a simmer and cook with the lid off for 12 minutes until the potatoes are completely cooked through.
Remove from the heat and take out the bay leaves. Cool slightly before adding the milk and then blend well in a food processor or liquidizer until completely smooth.
Season to taste and serve hot, garnished with chopped chives and a twist of black pepper.
İngilizce Yemek Tarifleri: Chicken Pot Pie
2 cups cooked and shredded chicken
1 cup sliced carrots
1 cup frozen green peas
1/2 cup sliced celery
1/3 cup butter
1/3 cup chopped onion
1/3 cup flour
1/4 teaspoon black pepper
1/4 teaspoon garlic powder
2 cups chicken broth (I used home-made stock, you may want to add salt in with the pepper, the stock had enough flavor that it didn't need it.)
3/4 cup milk
2 ( 9 inch) unbaked pie crusts
Preheat oven to 425 degrees F (220 degrees C). Spray a 9 inch pie dish with cooking spray and gently press one of the crust into the bottom pushing the sides down evenly. Bake in the preheated oven for about 8 minutes.
Meanwhile, combine carrots, peas, and celery in a saucepan with the chicken broth. Bring to a boil and boil for 15 minutes. Drain and reserve broth. Stir the chicken into the vegetable mix.
Cook the onions with melted butter in the saucepan over medium heat until soft. Stir in flour slowly (use a sifter if you have one) stirring continuously, pepper, salt if needed, and garlic powder. Slowly stir in chicken broth and milk. Simmer over medium low heat until thick. Remove from heat.
Spread the chicken mixture evenly in the bottom pie crust. Pour hot broth mixture over the chicken, and cover with the top crust, pinching edges into the rim of the pie plate/bottom crust.
Bake in the preheated oven on a cookie sheet for 30-35 minutes or until pie is golden and filling is bubbly.
Cool for 10 minutes before serving.
İngilizce Yemek Tarifi: Potatoes Anna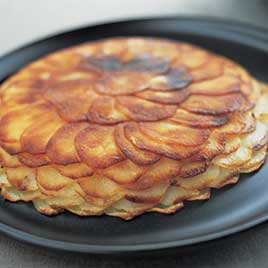 I was flipping through Julia Child's "The French Chef Cookbook," and came across this recipe for Potatoes Anna. I have made this dish several times, but this recipe is the best. It calls for an oven set to 450 degrees. Some other recipes say only 425 degrees which is simply not hot enough. Compare and see for yourself . I use Yukon Gold potatoes for this recipe. Potatoes Anna is a great side dish to serve with grilled steak and a fresh, green salad.
You'll need a 10 to 12 inch cast iron skillet with a tight fitting lid.
Preheat oven to 450. Set your oven racks on the two lowest positions in your oven.
Slice about 2 lbs. Yukon Gold potatoes to 1/16 of an inch thickness and dry each slice thoroughly with paper towels. Melt two sticks of butter in a small bowl and put a couple tablespoons of the melted butter in the bottom of the cast iron skillet. Begin arranging potato slices in the skillet in even rounds, overlapping slightly. Sprinkle each layer with a little salt and pepper, and a generous drizzle of butter. Fill the pan completely, allowing the potatoes to create a  dome in the center. Be sure to use all the butter, some of it will be poured off at the end of the cooking process to be used in another recipe if you wish.
Press potatoes down with a heavy saucepan and set a tightly fitted cover over the pan. If you don't have a cover, you can use aluminum foil. Set a large cookie sheet on the bottom oven rack to catch any butter drippings, and set the covered skillet on the rack above it. Bake for 20 to 30 minutes. Remove cover, and bake for an additional 20 minutes. Drain out excess butter, which can be used again. Run a knife along the edge of the potatoes. Cut into wedges and serve immediately with sour cream and chives if you wish.
Umarız ki hazırlamış olduğumuz İngilizce yemek tarifleri siz değerli öğrencilerimizin bu zor ödevinde yardımcı olur.