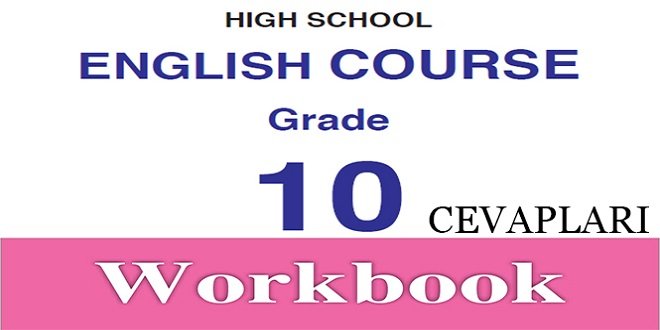 10. Sınıf Dikey Yayıncılık İngilizce Çalışma Kitabı Sayfa 145 Cevabı
SORULAR
1. Read the tour briefing below and number the attractions in the same order they are going to visit.
London Eye Buckingham Palace Oxford Street Big Ben Tower of London Madame Tussauds The Houses of Parliament Tower Bridge
Tour guide: Good afternoon, ladies and gentlemen and welcome to this fantastic tour of London by bus. My name's Nelson, and I'm your guide this afternoon on our tour of London. As you can see, we're on an open-top double-decker, so you can see all the attractions from your seat, and you don't need to walk anywhere. Please ask any questions at any time. OK, so where are we going on our wonderful tour? Well, the tour takes two hours and we are going to visit all the famous sites. First, we'll see Madame Tussauds. It's a museum with wax models of famous people and celebrities. Then we'll drive along the most famous shopping street in the world, Oxford Street. After that, we'll see the famous clock Big Ben and The Houses of Parliament. As we drive along the river, we'll visit the popular attraction, the London Eye. You can see the whole city on a sunny day on it. Then we'll see Tower Bridge and the famous Tower of London before arriving at Buckingham Palace.
2. Imagine that you are a tour guide. Write a tour briefing as in the example above. Give some information about the attractions in your city. Use the guidelines below.
• Search the Net to gather enough information about the attractions in your city.
• Find some photos of the attractions to make your briefing interesting and eyecatching.
• Put your briefing and the photos in your portfolio.
---
CEVAPLAR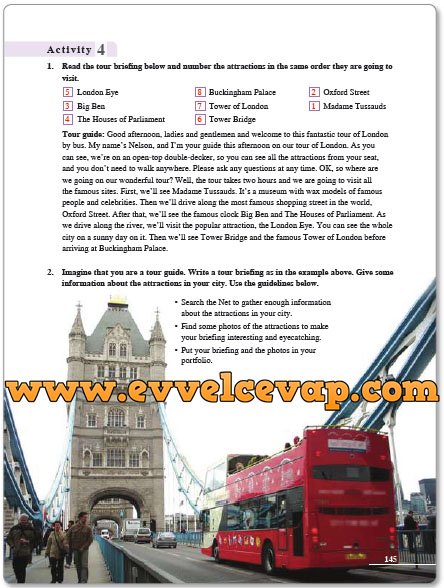 2023 Ders Kitabı Cevapları