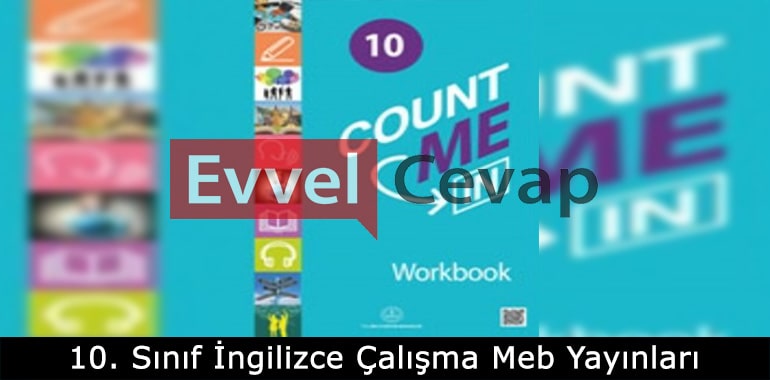 "10. Sınıf Meb Yayınları İngilizce Çalışma Kitabı Sayfa 61 Cevapları" ulaşabilmek ve dersinizi kolayca yapabilmek için aşağıdaki yayınımızı mutlaka inceleyiniz.
10. Sınıf Meb Yayınları İngilizce Çalışma Kitabı Sayfa 61 Cevabı
Rewrite the sentences below using who, which, whose, why and when.
1. The hotel was very comfortable. We stayed in it at the weekend.
2. I know this woman. She helped me to carry my luggage.
3. I remember the day. My sister was born on that day.
4. John didn't know the reason. His mother got angry for that reason.
5. Leonardo Da Vinci was a great Italian artist. His works are admired all over the world.
6. The book is on the table. Jane lent it.
7. This is the date. You have to deliver your research paper.
8. I'd like you to meet Mark. He is my cousin.
Reorder the words to make correct sentences.
1. takes a course/Sally/accepts/which/only/every year/80 students.
2. polite and patient/who/The waitress/us/was/served.
3. I/Italian/was/my friend/borrowed/car/whose.
4. which/visit/at 10.00/you/The museum/opens/visit/want to.
5. go on holiday/This/many people/is/the time of year/when.
6. The house/was/Jack/in a small town/bought/which.
7. tennis/Jack/who/the boy/us/taught/met/tennis.
8. Mrs. Brainstock/in the Health Centre/I/met with/whose/worked/sister.
Cevap

:
"10. Sınıf İngilizce Çalışma Kitabı Cevapları Meb Yayınları Sayfa 61" ile ilgili aşağıda bulunan emojileri kullanarak duygularınızı belirtebilir aynı zamanda sosyal medyada paylaşarak bizlere katkıda bulunabilirsiniz.
2024 Ders Kitabı Cevapları