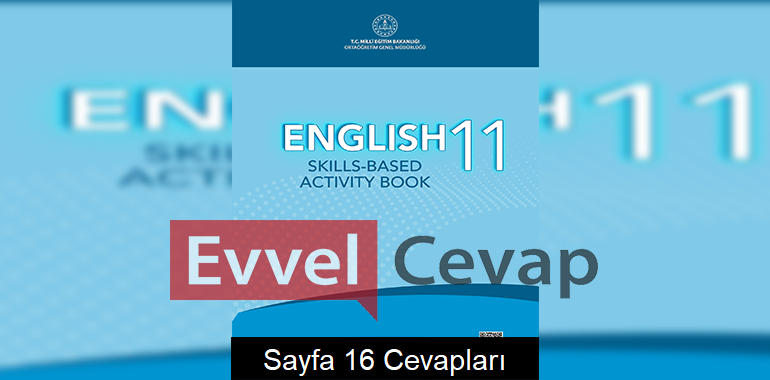 11. Sınıf İngilizce Beceri Temelli Etkinlik Kitabı Sayfa 16 Cevapları Meb Yayınları'na ulaşabilmek ve dersinizi kolayca yapabilmek için aşağıdaki yayınımızı mutlaka inceleyiniz.
11. Sınıf İngilizce Beceri Temelli Etkinlik Kitabı Cevapları

Sayfa 16
Ask and answer the questions about your likes, dislikes, present and past abilities as in the exampe below.
A: What do you like doing in your free time?
B: I like skating very much. What about you?
A: I really enjoy diving. It gives me great opportunity to watch the sea creatures. Can you swim? B: Yes, I can but I have been allergic to the sun for the last three years. Whenever I swim I start to itch. In fact, I could swim as fast as a dolphin before.
5. Read the dialog between a sport coach and a candidate student. Then, complete it with the sentences given below.
a I would rather my students trained very hard.
b I think, I'm really gifted in jumping.
c I can run as fast as a cheetah.
d I'm really into sports.
e I can't stand lazy people.
Coach: Let's see what you can do as a candidate sportsman. Firstly, can you run fast?
Student: Yes,……………………………………………….I could come in first in the race in my secondary school.
Coach: Great. And, can you jump high?
Student: Of course………………………………………………….I can easily touch the basket even if I'm not very tall.
Coach: Very good. And, do you like training? Because,………………………………………………………. at least twice a week. In fact,……………………………………………….
Student: ……………………………………………and I want to be a sportsman in the future so I can train hard believe me.
Coach: Hmm… Let's see your abilities in the court then.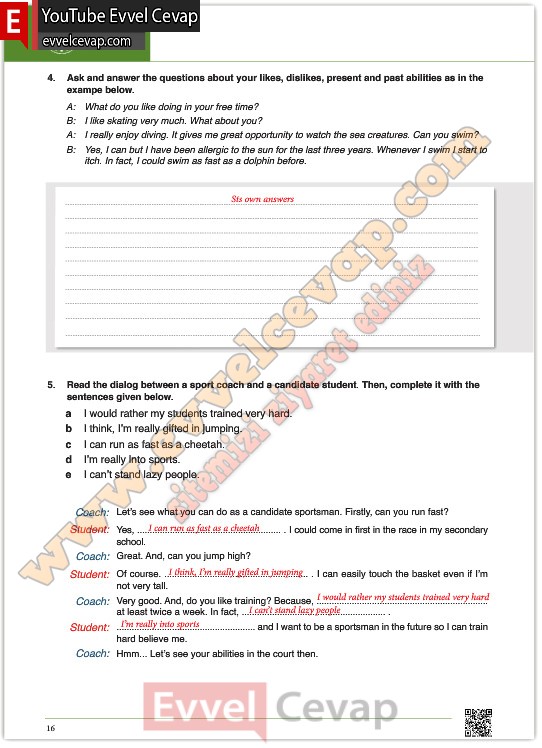 11. Sınıf Meb Yayınları İngilizce Beceri Temelli Etkinlik Kitabı Sayfa 16 Cevabı ile ilgili aşağıda bulunan emojileri kullanarak duygularınızı belirtebilir aynı zamanda sosyal medyada paylaşarak bizlere katkıda bulunabilirsiniz.
2024 Ders Kitabı Cevapları