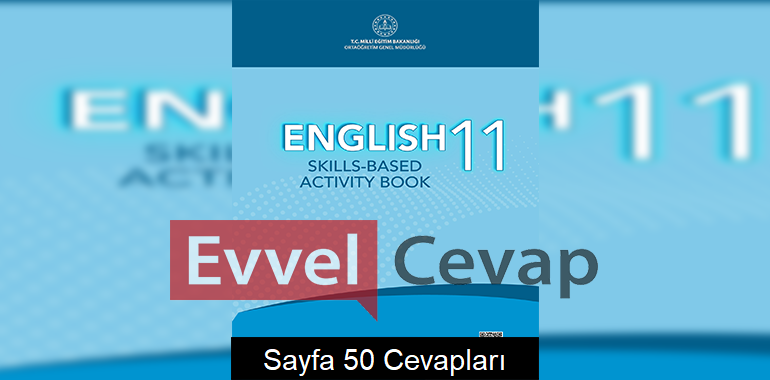 11. Sınıf İngilizce Beceri Temelli Etkinlik Kitabı Sayfa 50 Cevapları Meb Yayınları'na ulaşabilmek ve dersinizi kolayca yapabilmek için aşağıdaki yayınımızı mutlaka inceleyiniz.
11. Sınıf İngilizce Beceri Temelli Etkinlik Kitabı Cevapları

Sayfa 50
4. Look at the highlighted words in the news page and write the numbers from 1 to 5 in their definitions.
…………a once a year
…………b a game played in water by two teams trying to get the bali into the goal of the
other team.
…………c one that takes an opposite position in a game, competition, etc.
…………d to win points, goals, etc. in a game or competition
…………d in a sports event, trying to prevent the other player(s) from scoring points, goals, etc.
5. Read the news page again and answer the questions.
1 How is water polo defined in the page?
2 What is the main object of this sport?
3 How is water polo different from football?
4 How long does a water polo game last?
6. Report the sentences lettered from (a) to (c).
a The coach of the team told us that …………
b One of the players stated that …. c Youth Center Press Staff said that
7. Write a blog about an extreme sport to give detailed information. Your writing should include the answers of the questions below.
• Where and when can it be done?
• What are the basic features of that sport?
• What kind of equipment is needed?
• Would you like to try it or not? Why?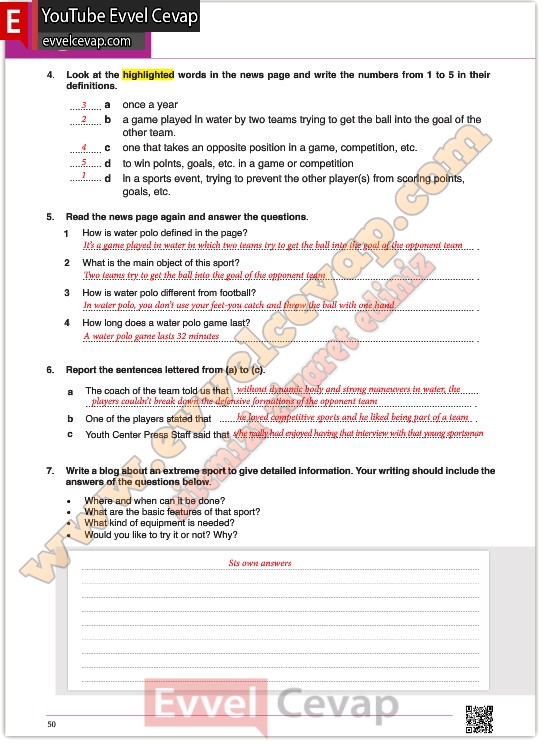 11. Sınıf Meb Yayınları İngilizce Beceri Temelli Etkinlik Kitabı Sayfa 50 Cevabı ile ilgili aşağıda bulunan emojileri kullanarak duygularınızı belirtebilir aynı zamanda sosyal medyada paylaşarak bizlere katkıda bulunabilirsiniz.
2023 Ders Kitabı Cevapları