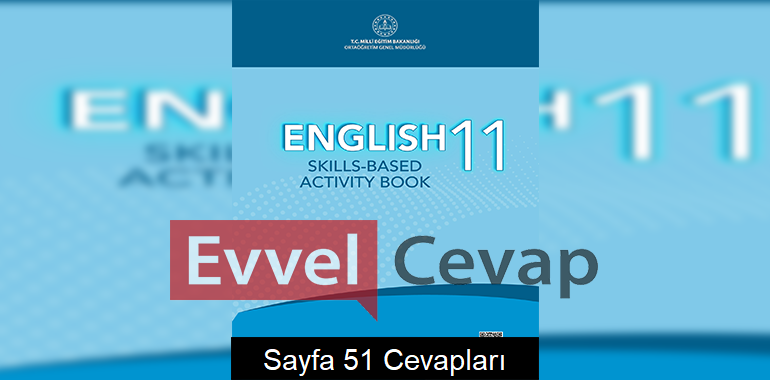 11. Sınıf İngilizce Beceri Temelli Etkinlik Kitabı Sayfa 51 Cevapları Meb Yayınları'na ulaşabilmek ve dersinizi kolayca yapabilmek için aşağıdaki yayınımızı mutlaka inceleyiniz.
11. Sınıf İngilizce Beceri Temelli Etkinlik Kitabı Cevapları

Sayfa 51
1. Listen to the dialog between two friends and write the sports they are interested in.
Pierre is interested in
2 Kathy is interested in
2. Listen to the dialog again and decide if the sentences are correct (v) or false (X). Correct the false ones.
1 Pierre said that only a healthy mind could realize God. EH
2 Kathy does her sport two times a week. EH
3 Kathy reminded him of an old saying that health is wealth. ____________________________
4 They both accept the importance of sports for a healthy life.
3. Prepare a short news report about the headlines below. Record your voice and send it to your friend.
a Gymnast loses balance and falls in the final. b The runners show great stamina in the marathon. c Impressive show of strength in the weightlifting final!
4. Steve is throwing a birthday party next Saturday. His friend Rosa wants to know more about it and asks him some questions. Report Rosa's questions.
1 Rosa asked Steve …..
2 She wanted to know –
3 Rosa asked him____
4 Rosa wanted to know
5. Report the sentences without any change in the meaning as in the example.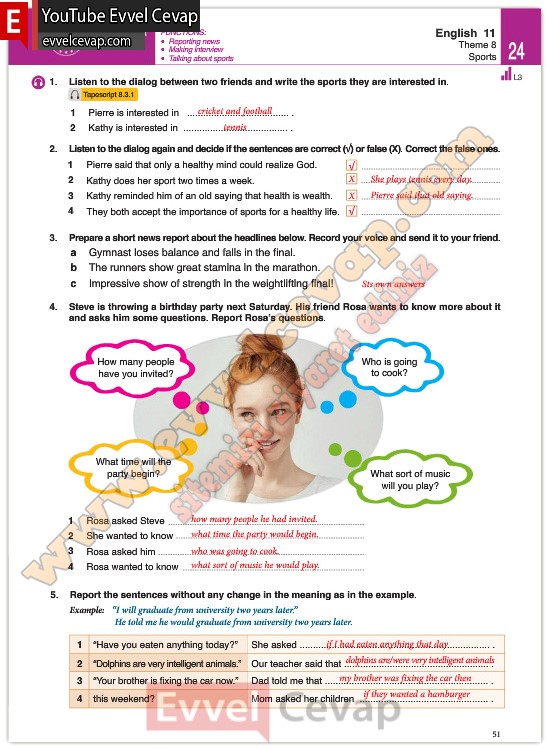 11. Sınıf Meb Yayınları İngilizce Beceri Temelli Etkinlik Kitabı Sayfa 51 Cevabı ile ilgili aşağıda bulunan emojileri kullanarak duygularınızı belirtebilir aynı zamanda sosyal medyada paylaşarak bizlere katkıda bulunabilirsiniz.
2023 Ders Kitabı Cevapları