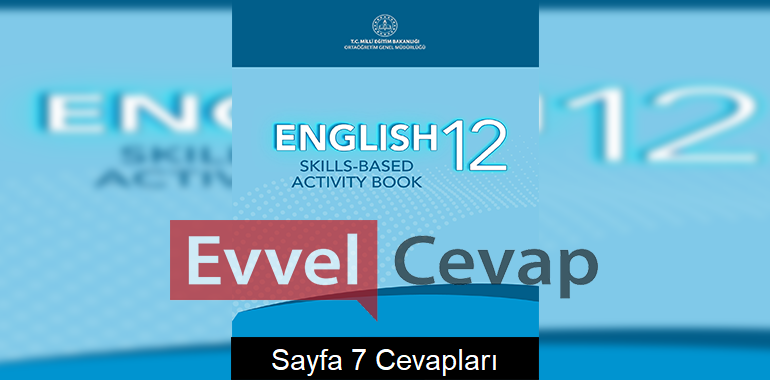 12. Sınıf İngilizce Beceri Temelli Etkinlik Kitabı Sayfa 7 Cevapları Meb Yayınları'na ulaşabilmek ve dersinizi kolayca yapabilmek için aşağıdaki yayınımızı mutlaka inceleyiniz.
12. Sınıf İngilizce Beceri Temelli Etkinlik Kitabı Cevapları

Sayfa 7
Lien to the audio. Match the conversations (A-D) with the following statements (1-4) and write if the speakers partly agree, mostly disagree, or disagree with each other. Tapescript 1.3.1
1 Even minor mishaps can spoil the pleasure we can get from live performances.
2 We must combat music piracy in order that musicians can earn money.______
3 Tickets to the plays performed by singers and an orchestra cost far too much.
4 Ethnic music of a country is way better than its modern counterpart.
Listen to the audio again and number the following phrases in the order they are spoken.
In my opinion, …
I'm a bit doubtful about …
I firmly believe that …
I've always thought that … I'm of the opinion that …
I think …
From my point of view, … As far as I'm concerned, …
3. Discuss the statements below with your partner using the expressions in Exercise 2.
1 Music is a perfect way of bringing many people together regardless of their cultural or educational backgrounds.
2 Rather than just being a form of entertainment, music is a powerful tool that can be used to shape society.
3 Modern music, especially the lyrics of the songs, may influence children and teenagers in a bad way.
4. Choose one of the statements given in Exercise 1 and write a short opinion paragraph about it.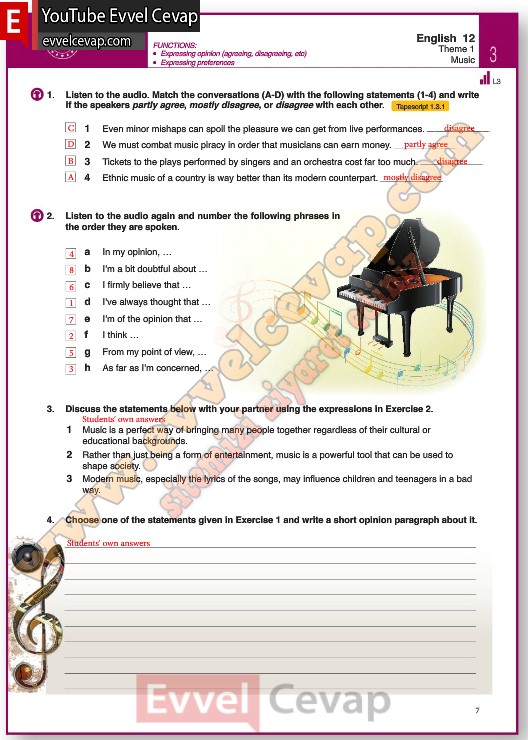 12. Sınıf Meb Yayınları İngilizce Beceri Temelli Etkinlik Kitabı Sayfa 7 Cevabı ile ilgili aşağıda bulunan emojileri kullanarak duygularınızı belirtebilir aynı zamanda sosyal medyada paylaşarak bizlere katkıda bulunabilirsiniz.
2022 Ders Kitabı Cevapları
☺️ BU İÇERİĞE EMOJİYLE TEPKİ VER!