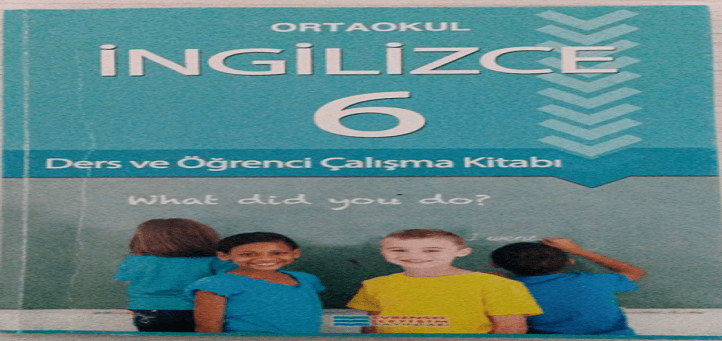 6. Sınıf Evrensel İletişim Yayınları İngilizce Ders Kitabı Sayfa 65 Cevabı
SORULAR
SAYFA 65
C.Listen to the recording and tick (/) the correct choice. Why are Jack and his grandma so excited?
a.The Jeffersons are going on holiday.
b.Burglars are stealing things from the Jeffersons' house.
c.The Jeffersons are moving into another house.
D.Listen to the recording again and draw the following objects in the pictures in activity B.
a yellow van
glasses
a painting
a telephone
E.Work in pairs. Look at the picture and complete the dialogue. Then, act it out.
Officer: Hello! Officer Charles is speaking. How can I help you?
Jack: You must come here immediately. Please, hurry up.
Officer: OK. Calm down and ansvver my questions, please. First of ali, vvhat's your name?
Jack: …………………………………………….
Officer: What's the problem?
Jack: …………………………………………….
Officer: How many burglars are there?
Jack: …………………………………………….
Officer: What are they doing at the moment?
Jack: …………………………………………….
Officer: What's your address?
Jack: It's Highbury House 75 Drayton Park.
Officer: Thanks, boy. We'll be there in a few minutes
---
CEVAPLAR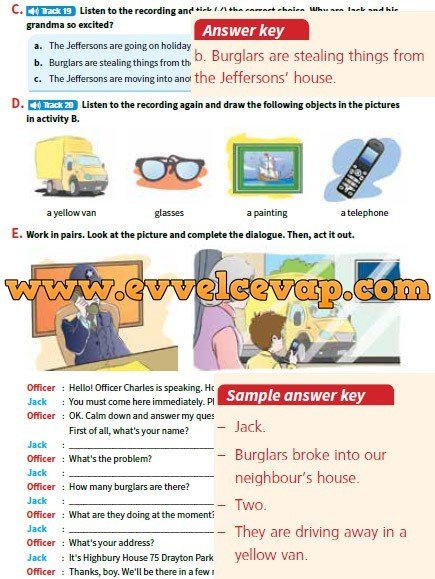 2024 Ders Kitabı Cevapları