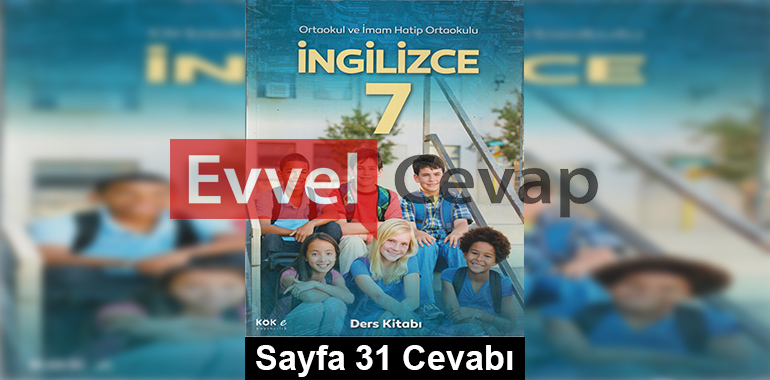 7. Sınıf İngilizce Ders Kitabı Sayfa 31 Cevapları Kök-e Yayınları'na ulaşabilmek ve dersinizi kolayca yapabilmek için aşağıdaki yayınımızı mutlaka inceleyiniz.
7. Sınıf İngilizce Kök-e Yayıncılık Ders Kitabı Cevapları Sayfa 31
1. Read the text quickly. Match the headings with the paragraphs.
A. Our Success
B. VVhoam I?
C. My Daily Routine
My name is Maria. l'm 23 years old. l'm a professional volleyball player. l'm from Madrid but I live in Barcelona to study Physical Education and Sport. I go to Madrid and visit my family önce a month because I miss them so much.
Volleyball is my life. I alv/ays v/ake up early in the mornings and go running.
I am never late to the gym. I have got a personal trainer and a special vvorkout program. I also go svvimming four times a vveek. I never go on a diet because I always eat healthy food. I never eat ı'unk food or fast food.
We have an important match önce or tvvice a month. The court is always full of spectators. Success is very important for my team. We usually play very well and vvin the matches. VJe often go to the hospital because vve have in|uries. VJe sometimes stay in bed for one or two days.
Cevap:
7. Sınıf Kök-e Yayıncılık İngilizce Ders Kitabı Sayfa 31 Cevabı ile ilgili aşağıda bulunan emojileri kullanarak duygularınızı belirtebilir aynı zamanda sosyal medyada paylaşarak bizlere katkıda bulunabilirsiniz.
2022 Ders Kitabı Cevapları