8. Sınıf Evrensel İletişim Yayınları İngilizce Ders Kitabı Sayfa 63 Cevabı
SORULAR
Sayfa 63
1.Scan the text and complete the chart.
TARSUS Truly an Ancient Province
Location :
Climate :
Tourist Attractions :
Recreational Activities :
Dishes :
Accommodation
Tarsus is a historic province in south-central Turkey. It's 20 km inland from the Mediterranean Sea. With a history going back over 6,000 years, Tarsus was an important stop for traders and a focal point of many civilizations. During the Roman Empire, Tarsus was the capital of the province of Cilicia and the scene of the first meeting between Mark Antony and Cleopatra. Tarsus is a junction point of Cilician plain (Çukurova), central Anatolia and the Mediterranean Sea. The climate is typical of the Mediterranean region, with very hot summers and chilly, damp winters. Tarsus has many ancient sites and historic buildings, such as Cleopatra's Gate, The Roman Bridge of Justinian, Tarsus Museum, The St. Paul's Church, The Mosque of Prophet Daniel, Eshab-ı Kehf Cave, Roman Road, Grand Mosque and Kırkkaşık Bedesten. Tarsus is also a great place for recreation. You can try trekking, rafting, photo safari, mountain biking or off-road racing. After a tiring day, you can enjoy traditional Mediterranean dishes and various kinds of kebabs in an all-inclusive resort or a bed and breakfast place.
2.Read the text and answer the questions. Share your answers with the class.
1.Why was Tarsus an important place in history?
2.Why is it an important place now?
3.People say Tarsus is truly a multicultural province. Why do they think so? Give examples.
3.Do you prefer having a sightseeing vacation in Tarsus? Share your reasons with your classmates
---
CEVAPLAR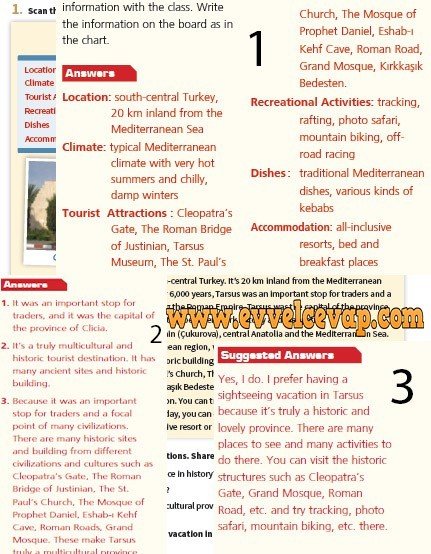 2024 Ders Kitabı Cevapları