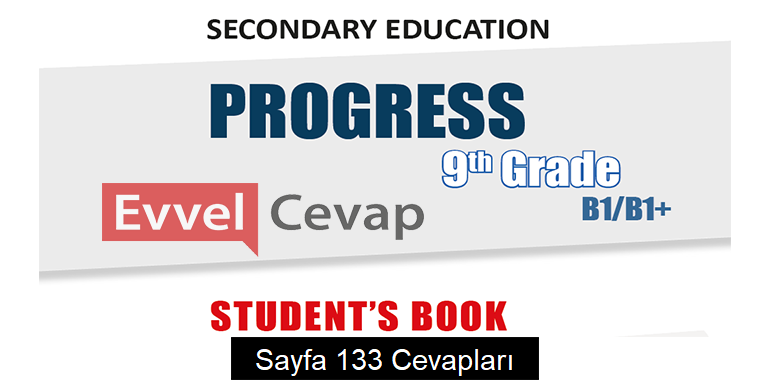 9. Sınıf İngilizce Hazırlık Ders Kitabı Sayfa 133 Cevapları Meb Yayınları'na ulaşabilmek ve dersinizi kolayca yapabilmek için aşağıdaki yayınımızı mutlaka inceleyiniz.
9. Sınıf İngilizce Hazırlık Ders Kitabı Cevapları

Sayfa 133
5. "Every term, the day before the school starts, we get together with my classmates to have some fun. We order a big cake and drinks; wear cones and throw confetti. It has become a traditional activity to recharge our batteries."
If we want to encourage someone to do something, we should motivate them. To do this, we can use the sentences below.
* When one is facing a problem: "Stay strong." "Don't give up." * When one can't decide whether to do something that looks difficult: "What do you have to lose?" "It's worth a shot." * When one is trying to reach a hard decision: "I'm always behind you." "I support you all the way." * When one is already doing well: "I'm very proud of you!" "Keep up the good work." * When one seeks inspiration: "Reach for the stars." "Follow your dreams." * When one is having a difficult time: "Look on the bright side." "Every cloud has a silver lining." "Tomorrow is another day."
Speaking
a. Discuss the following questions.
1. When and why do you think a person needs motivation?
2. What is your primary motivation to be successful?
b. Read the situations given below and write motivational sentences for each. Use the sentences in 'KEEP IN MIND!' box.
1. Your brother has been thinking about running his own business after quitting his full-time job and you are of the opinion that he ought to do it soon. You say:
2. You are the coach of the National Volleyball Team. The team won a match and each player did a really great job. You say:
3. You are teaching your sister how to drive, but she keeps making the car stop and looks terribly disappointed. You say:
4. You are helping your mum shop for some new furniture. She finds a lounge suite that might go well with the curtains in the living room, but she can't make up her mind whether it is a good choice. You say:
c. Imagine a situation that you need some motivation to keep going and try hard. Work in pairs. Talk about your situations. Ask for and provide each other some motivational tips in turns.
e.g. I'm thinking about dropping out of the competition. I don't think I can make it and I feel emotionally exhausted. No, you won't. Practice makes perfect and you can do it! Now, cheer up!
9. Sınıf Meb Yayınları İngilizce Hazırlık Ders Kitabı Sayfa 133 Cevabı ile ilgili aşağıda bulunan emojileri kullanarak duygularınızı belirtebilir aynı zamanda sosyal medyada paylaşarak bizlere katkıda bulunabilirsiniz.
2024 Ders Kitabı Cevapları