9. Sınıf İngilizce Hazırlık Ders Kitabı Sayfa 149 Cevapları Meb Yayınları'na ulaşabilmek ve dersinizi kolayca yapabilmek için aşağıdaki yayınımızı mutlaka inceleyiniz.
9. Sınıf İngilizce Hazırlık Ders Kitabı Cevapları

Sayfa 149
d Listen again. For the situations (1-4), pu a tick (√) fact or imaginary as in the examples.
Speaking
a Discuss the following questions.
1. What genres of films do you prefer?
2. What was the last film you watched? Did you like it? Why/Why not?
b. Work in pairs. Think about your favourite films. What would have happened if the events in the film you chose had developed differently? Share your ideas with your classmates as in the example.
Titanic is my favourite film and I certainly watch it once a year. Every time I watch this film, I cannot help thinking the events and the characters' choices in different aspects. For example, if the lifeboats on the board of the Titanic had been enough, more people would have survived…
* We use the third conditional to talk about imaginary situations in the past: e.g. If you had invited me to the fancy- dress party, I would/might/could have participated as a superhero. (But, you didn't invite me so I didn't participate in the party.) * We use wish/If only + past perfect to express regret about something which happened or didn't happen in the past: e.g. I wish/If only I had read her latest novel before watching the adaptation on TV. (But, I didn't read.)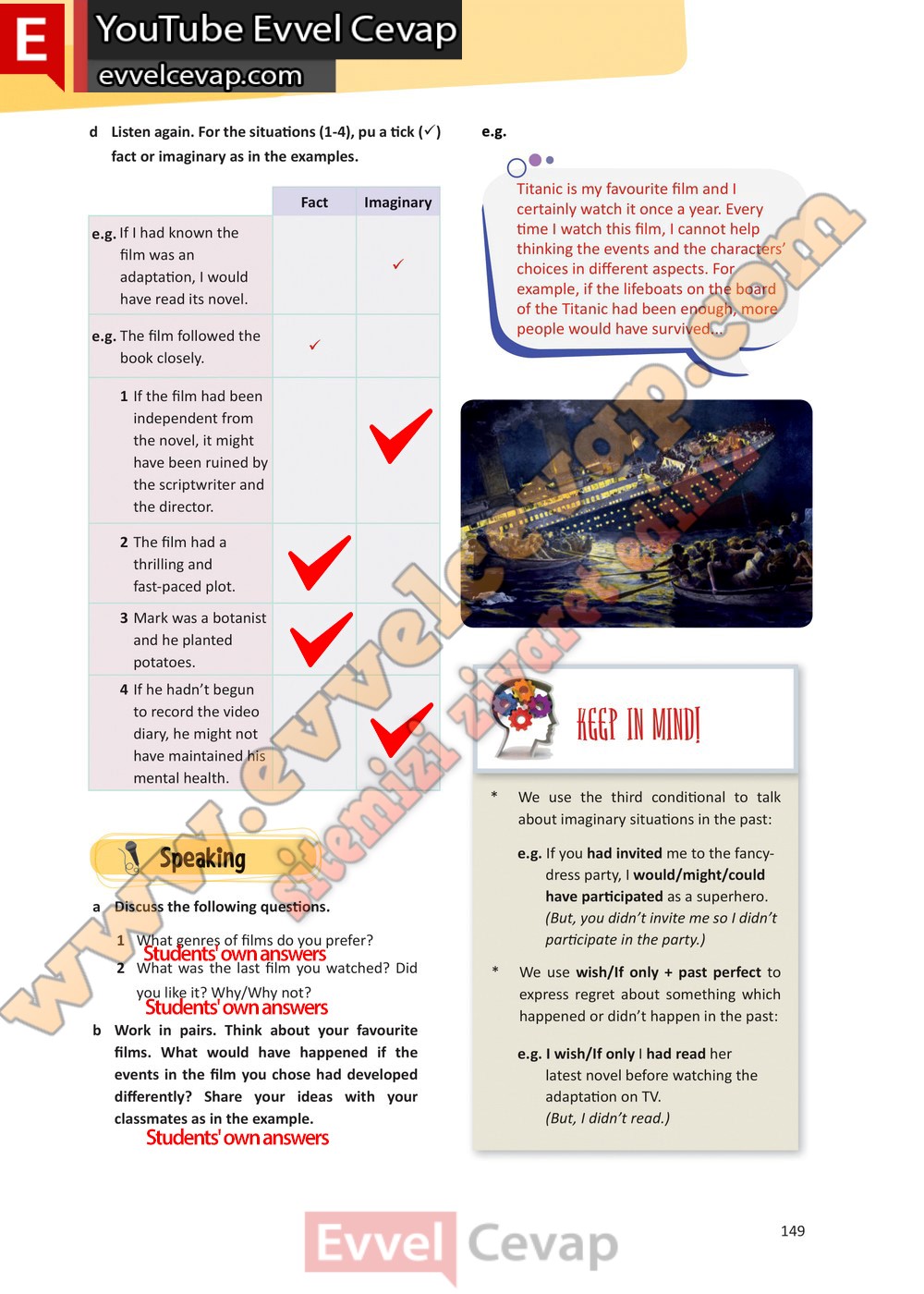 9. Sınıf Meb Yayınları İngilizce Hazırlık Ders Kitabı Sayfa 149 Cevabı ile ilgili aşağıda bulunan emojileri kullanarak duygularınızı belirtebilir aynı zamanda sosyal medyada paylaşarak bizlere katkıda bulunabilirsiniz.
2023 Ders Kitabı Cevapları