9. Sınıf İngilizce Hazırlık Ders Kitabı Sayfa 153 Cevapları Meb Yayınları'na ulaşabilmek ve dersinizi kolayca yapabilmek için aşağıdaki yayınımızı mutlaka inceleyiniz.
9. Sınıf İngilizce Hazırlık Ders Kitabı Cevapları

Sayfa 153
d. Read the definitions below. Find the appropriate words from the text for each.
e. If you took part in a film-making process, what film star, the director, the producer, set designer, or cameraman etc.? Why?
4. I love to learn new words in English. In addition to / Furthermore, I am interested in the origin of words.
5. Reading books enriches your vocabulary. It helps to make your writing and speaking fluent as well / moreover.
6. The film was not interesting for me to watch. In addition to / What's more, it was too long and boring.
b. Write a blog post about one of the latest films in the cinemas. Use the linking words and phrases you ha ve learned. Give detailed information about:
• its genre
• its director, leading actor and actress
• its plot
• its visual effects, soundtrack, set etc.
• your comments on the film
c. Read your blog post to your classmates and discuss whose film is the most interesting. Why?
Linking words of addition: To give more information, you can use the following conjunctions: and, also, in addition (to), furthermore, besides, too, moreover, what's more, not only… but also, as well (as) e.g. He is an excellent actor. Furthermore, he has a beautiful singing voice. Yavuz Turgul is not only a successful film director but also a scriptwriter.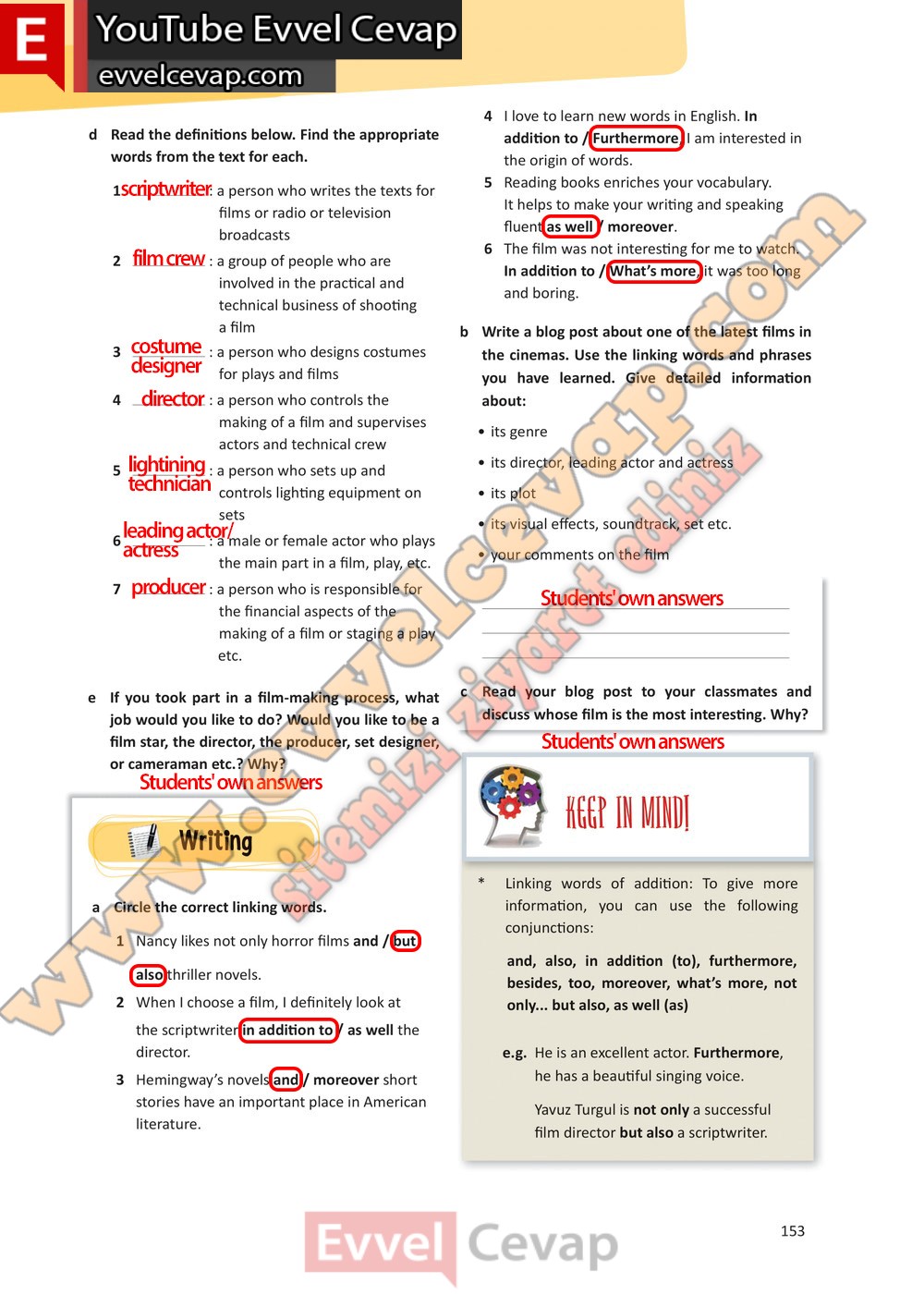 9. Sınıf Meb Yayınları İngilizce Hazırlık Ders Kitabı Sayfa 153 Cevabı ile ilgili aşağıda bulunan emojileri kullanarak duygularınızı belirtebilir aynı zamanda sosyal medyada paylaşarak bizlere katkıda bulunabilirsiniz.
2023 Ders Kitabı Cevapları