9. Sınıf İngilizce Hazırlık Ders Kitabı Sayfa 36 Cevapları Meb Yayınları'na ulaşabilmek ve dersinizi kolayca yapabilmek için aşağıdaki yayınımızı mutlaka inceleyiniz.
9. Sınıf İngilizce Hazırlık Ders Kitabı Cevapları

Sayfa 36
d- Read the text and underline the prepositions of movement.
Last summer, my friends and I decided to take a road trip from Ankara to Çanakkale. We were planning to visit Martyrs' Memorial. We made a travel plan, got into the car and drove along the highway. We passed through the Mount Bolu Tunnel;
it was amazing! We agreed to have a short break near Lake Abant in Bolu. We walked around the lake and took pictures. As it was getting late, we moved on quickly. A few hours later, we passed across the 15 July Martyrs Bridge with the marvellous Bosphorus view. When we arrived in Çanakkale, we were all tired and hungry. We got out of the car and found a hotel to stay. The next day, we visited the Martyrs' Memorial and drove back to Ankara. It was one of the best road trips of my life.
e- Fill in the blanks with the correct prepositions of movement from the text.
1- He was walking __________ the house while carrying his suitcase.
2- He decided to go__________ Rome__________ Paris.
3- Before the meeting, they walked __________ the company building together.
4- The young couple waited for the green light to walk __________the road.
5- His only weekend activity was to walk __________Lake Garibaldi.
6- The campers built their tents__________the lake before the festival.
7- The baby was crawling __________the small tunnel in the park.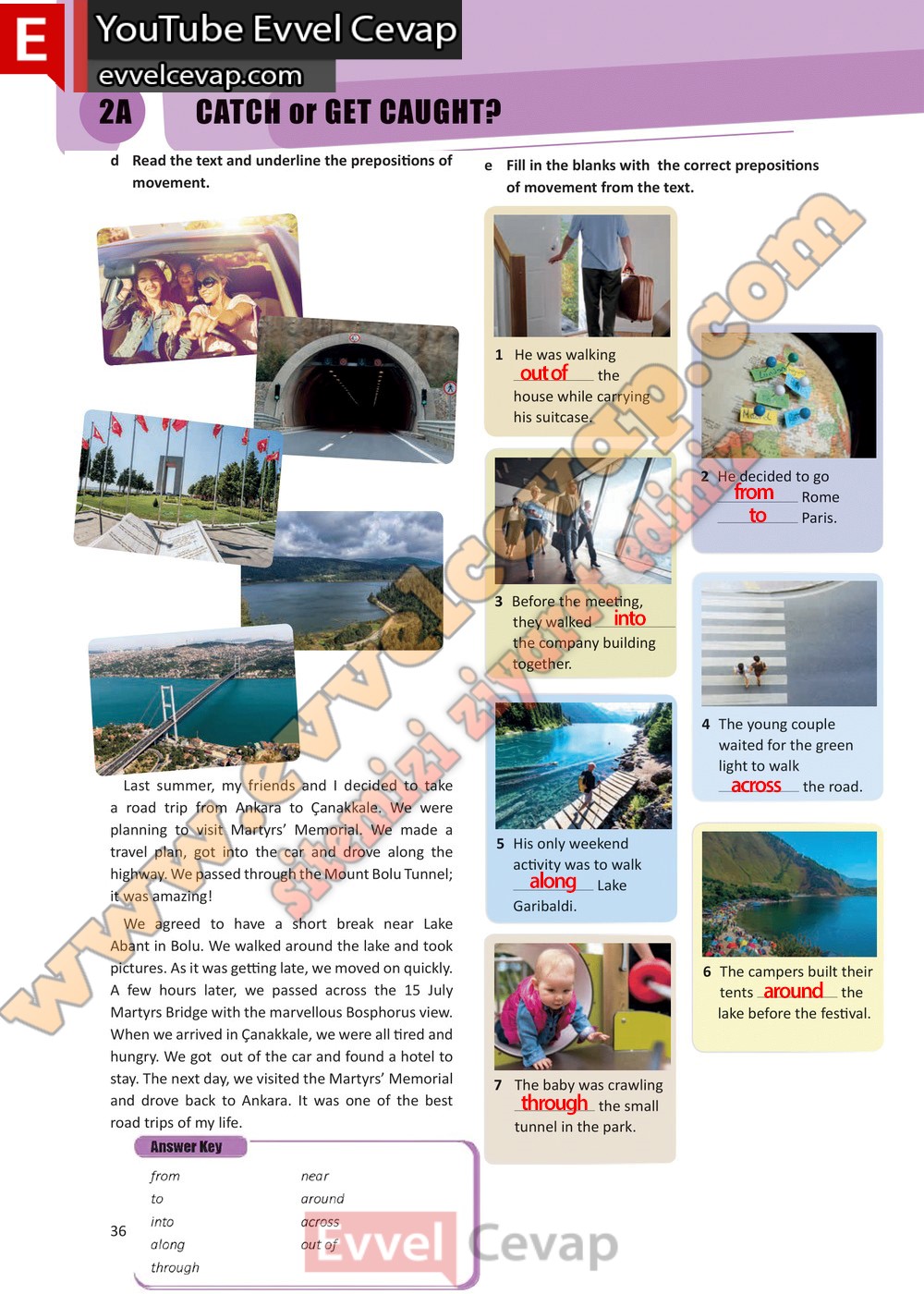 9. Sınıf Meb Yayınları İngilizce Hazırlık Ders Kitabı Sayfa 36 Cevabı ile ilgili aşağıda bulunan emojileri kullanarak duygularınızı belirtebilir aynı zamanda sosyal medyada paylaşarak bizlere katkıda bulunabilirsiniz.
2023 Ders Kitabı Cevapları