9. Sınıf İngilizce Hazırlık Ders Kitabı Sayfa 54 Cevapları Meb Yayınları'na ulaşabilmek ve dersinizi kolayca yapabilmek için aşağıdaki yayınımızı mutlaka inceleyiniz.
9. Sınıf İngilizce Hazırlık Ders Kitabı Cevapları

Sayfa 54
a- Do you know what 'acid rain' is? Does it occur in your country?
b- Read the paragraph and find out how the writer feels about the future.
Acid rain is a kind of acidic precipitation and it occurs when human activities emit nitrogen oxides and sulphur dioxide into the atmosphere. These gases increase as a result of overconsumption of energy and burning of fossil fuels by vehicles, coal-burning power plants and factories. Some plants and animals don't have acidic tolerance so, they can't survive in these circumstances. We should conserve energy by using less electricity and use public transportation instead of driving. I think, we are the last generation that still has a chance and I hope to see all governments making laws to encourage the protection of the environment so that future generations will inherit a better world.
c- Think of a natural or man-made disaster. Write a paragraph about the reasons and results of that problem by adding your solutions. Check the box below and use some of the phrases to express your feelings and ideas about the future.
I'm looking forward to…
I can't wait for…
I hope to…
I want to/would like to…
I'm counting the days till/until…
I'm afraid … sooner or later.
Unfortunately, we will…
d- Work with your partner. Swap your paragraphs and correct each other's mistakes. Find out what kind of attitude your friend has for the future.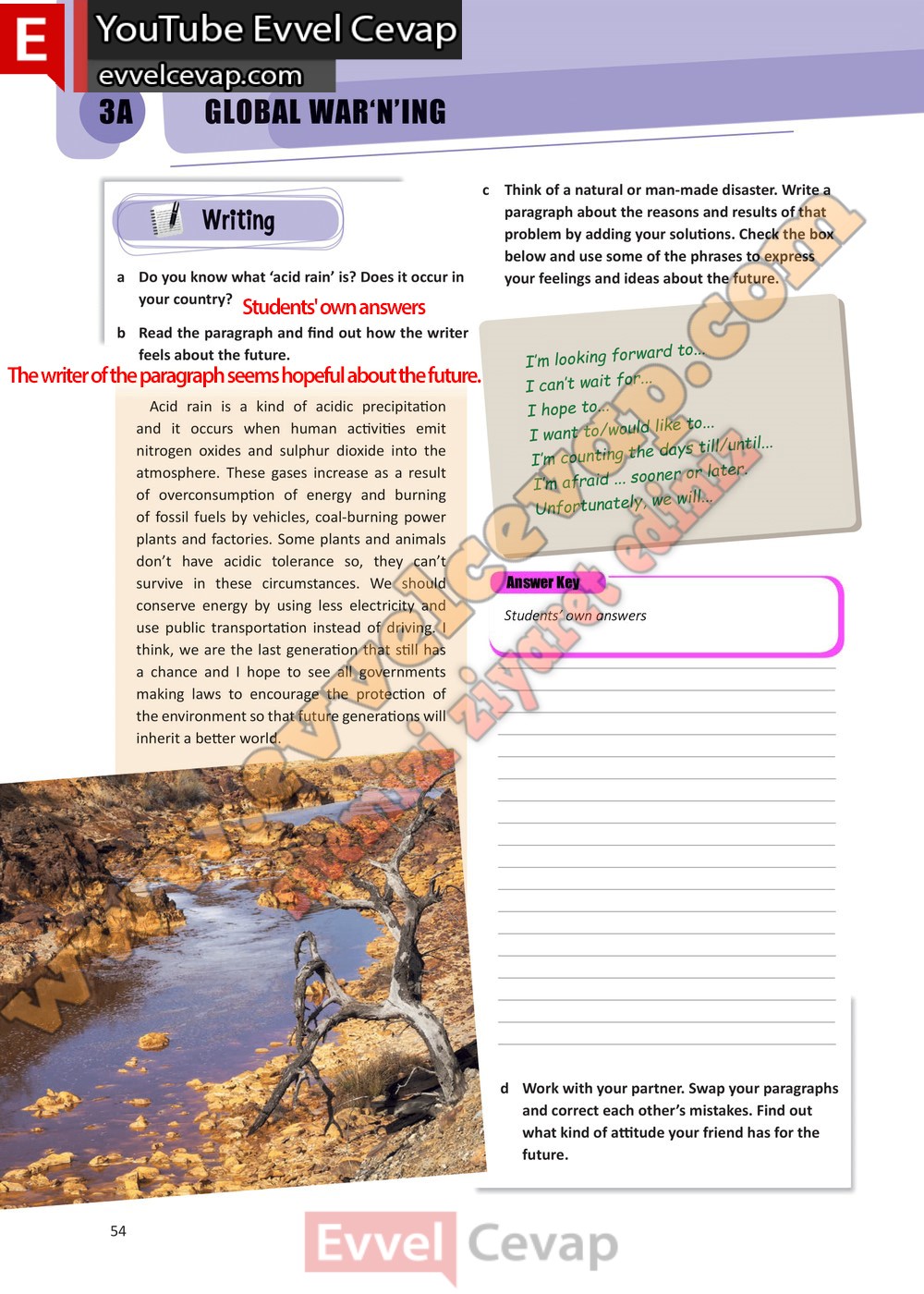 9. Sınıf Meb Yayınları İngilizce Hazırlık Ders Kitabı Sayfa 54 Cevabı ile ilgili aşağıda bulunan emojileri kullanarak duygularınızı belirtebilir aynı zamanda sosyal medyada paylaşarak bizlere katkıda bulunabilirsiniz.
2023 Ders Kitabı Cevapları