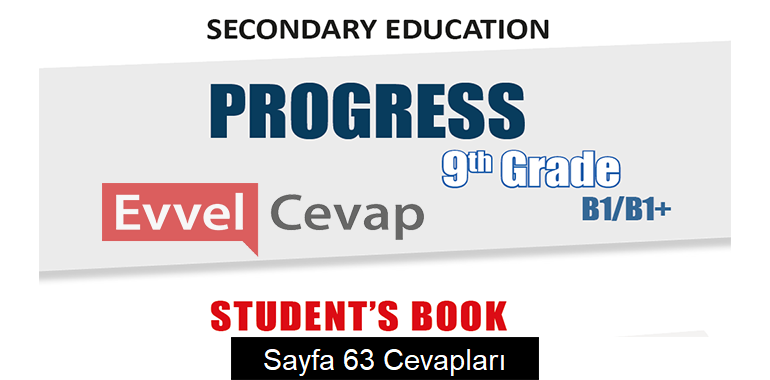 9. Sınıf İngilizce Hazırlık Ders Kitabı Sayfa 63 Cevapları Meb Yayınları'na ulaşabilmek ve dersinizi kolayca yapabilmek için aşağıdaki yayınımızı mutlaka inceleyiniz.
9. Sınıf İngilizce Hazırlık Ders Kitabı Cevapları

Sayfa 63
c- Look at the highlighted words in the conversations. Try to guess their meanings in the context. Then, match them to their definitions below.
1 _____: to give someone facts or information
2_____: to join in
3_____: to take notice
4_____: to give out; to distribute
5_____: to ecourage; to back up
6_____:exhaustion
7_____: to arrange a contest
d- Read the conversations again. Underline the future tense forms and write an example for each function below.
plan/intention:
predictions:
fixed arrangement:
scheduled action:
e- Answer the following questions according to the conversations.
1- Which environmental problem are the students concerned about in 'Conversation 1'?
2- What is the Art teacher planning to do to help the students?
3- What are the students in 'Conversation 2' talking about?
4- What is the headmaster going to do?
5- What will the cleaning department do to help the students in 'Conversation 3'?
Choose one of the topics below and share your ideas with your classmates.
1- What can we do to protect the environment? Talk about your plans for a better environment.
e.g. I'm going to turn off the lights when I don't need.
2- What do you think the environmental groups do? Have you ever participated in an environmental group or event? What did you do?
3- What do you think the benefits of using eco-friendly products are. Do you use these products in your daily life?
a- Create an environmentalist act, or start a campaign in your class/school/neighbourhood. In the first hand, write a slogan and create an action plan to solve the problem. If you want, you can use your poster, too. Then, share it with your teacher and classmates.
b- Make a survey about one of the environmental problems. Ask ten students whether they are a part of the problem or solution in your school. You can ask other questions about environmental issues, as well. While doing the survey, record yourself with a camera or mobile phone and share it with your classmates.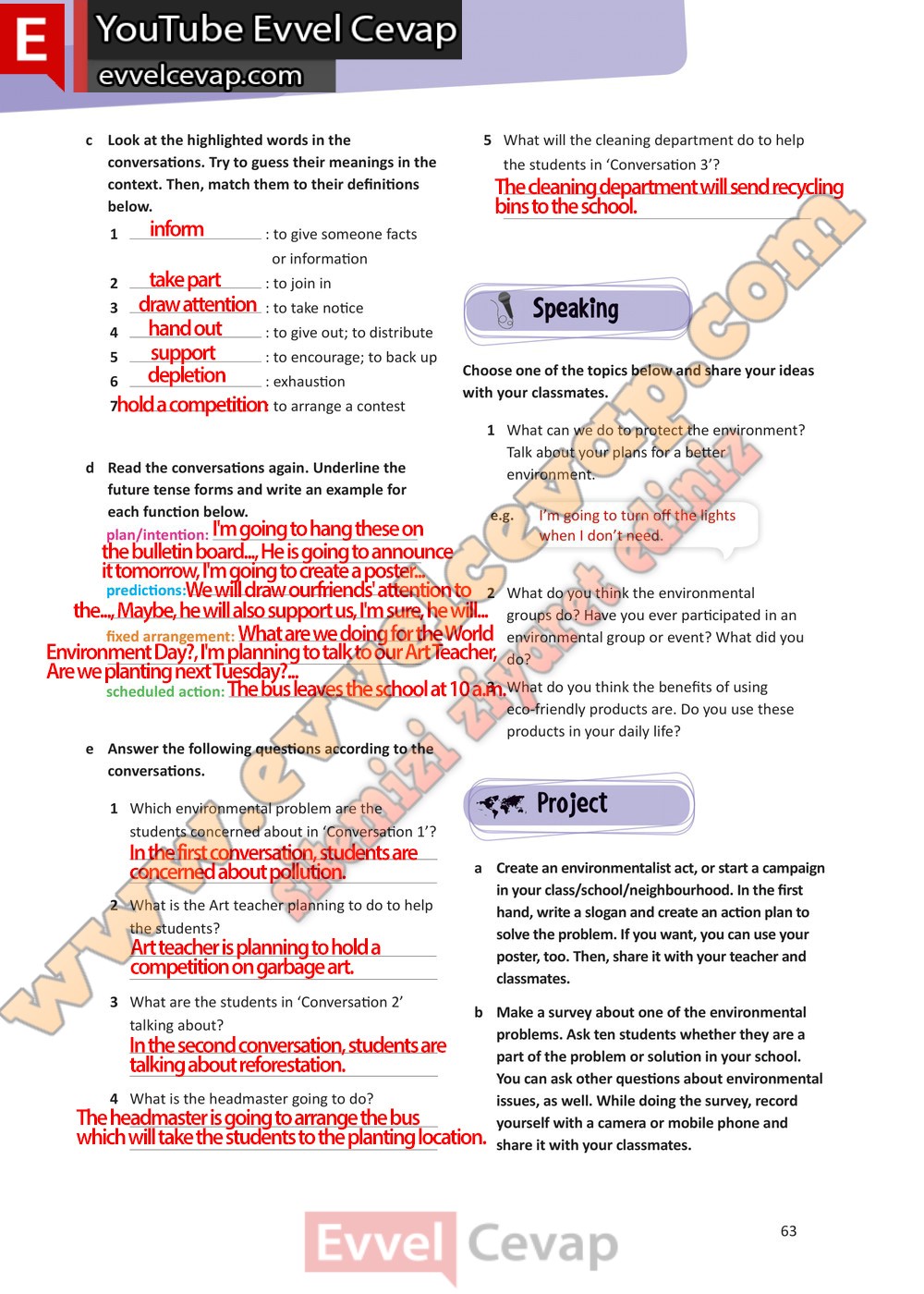 9. Sınıf Meb Yayınları İngilizce Hazırlık Ders Kitabı Sayfa 63 Cevabı ile ilgili aşağıda bulunan emojileri kullanarak duygularınızı belirtebilir aynı zamanda sosyal medyada paylaşarak bizlere katkıda bulunabilirsiniz.
2023 Ders Kitabı Cevapları