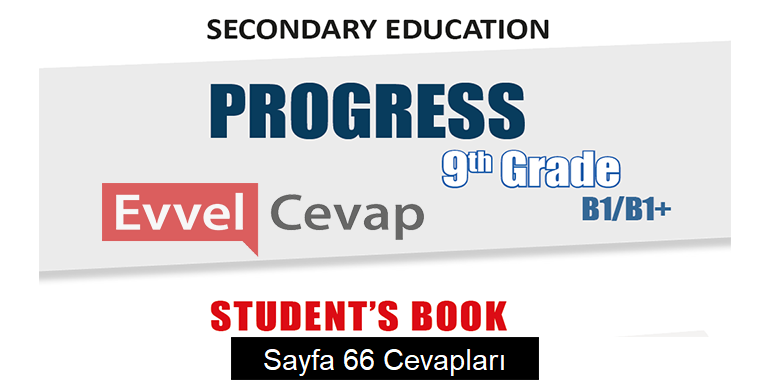 9. Sınıf İngilizce Hazırlık Ders Kitabı Sayfa 66 Cevapları Meb Yayınları'na ulaşabilmek ve dersinizi kolayca yapabilmek için aşağıdaki yayınımızı mutlaka inceleyiniz.
9. Sınıf İngilizce Hazırlık Ders Kitabı Cevapları

Sayfa 66
Discuss the following questions with your partner.
1- What kinds of technology tools are there in your classroom?
2- What benefits do you think technology has for your class?
a- Work in groups. Do you agree with the following statements? Why/Why not?
1 Using Information Technology in class draws students' attention and increases their motivation.
2 Only teachers should transfer knowledge to students in classroom.
3 You can learn a language on your own, using technology.
b- Listen to the audio and answer the questions. Track 17
1- What did Carol do to improve her English?
2- How long did it take for Carol to be at intermediate level in English?
3- Where did Wang study English?
4- Why did Victoria get bored of her previous language school?
c- Discuss with your partner. What do you usually do to improve your English language skills?
a- Work in pairs and answer the following questions.
1- Look at the photo. What are they doing?
2- Would you rather work in groups or on your own? Give reasons.
FLIPPED LEARNING
Antony Arch is an English Language teacher at a university in the USA.
I started teaching English fifteen years ago in a high school. At the beginning of my teaching career, I used PowerPoint presentations and recordings in my classes to draw students' attention. Over the last thirteen years, I have always tried to apply the latest methods in my classrooms by taking my students' needs and interests into account. However, everything has changed recently because of the intense use of information technologies in our daily life.
Educators who would like to make a difference in students' lives have integrated technology into their instruction to engage students actively in learning process. Students usually prefer digital tools such as tablets, smart boards, computers and digital cameras in class because they believe that these kinds of materials make learning more interesting, enjoyable and fun. Therefore, I decided to change my traditional teaching ways to enhance students
9. Sınıf Meb Yayınları İngilizce Hazırlık Ders Kitabı Sayfa 66 Cevabı ile ilgili aşağıda bulunan emojileri kullanarak duygularınızı belirtebilir aynı zamanda sosyal medyada paylaşarak bizlere katkıda bulunabilirsiniz.
2023 Ders Kitabı Cevapları