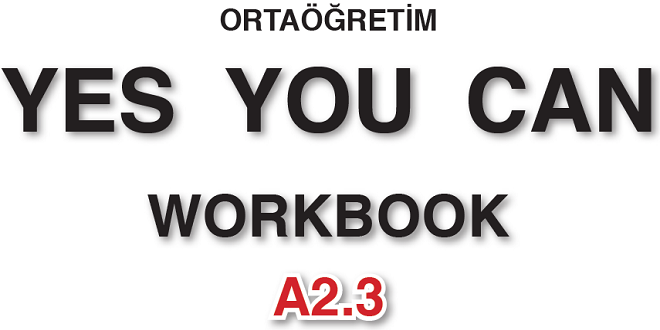 İngilizce Meb Yayınları Yes You Can A2.3 Çalışma Kitabı Sayfa 58 Cevabı
2017 – 2018 Eğitim Öğretim dönemiyle beraber pek çok ders ve çalışma kitabı değişti. Değişen ders kitaplarından biri de "İngilizce Meb Yayınları Yes You Can A2.3 Çalışma Kitabı Cevapları" oldu. Kitabı incelediğimizde ise Ertuğrul PERŞEMBE, Nermin ULUĞ, Z. Zeynep EROĞLU CANMETİN tarafından 64 sayfa olarak kaleme alındığını görüyoruz. Kitapta görseller ön plana çıkarılmış ve görsel tasarım ise E. Oktay DEĞİRMENCİ, Aysun ORAN tarafından yapılmış.
"İngilizce Meb Yayınları Yes You Can A2.3 WorkBook Sayfa 58 Cevapları"nda önce sorular yazıldı daha sonra cevaplar verildi.
SORULAR
A. Read the text about an extreme exhibition and write (T) true or (F) false. Correct the false sentences.
BODIES… The Exhibition
Bodies… The Exhibition is a controversial exhibition and it has showcased preserved human bodies dissected to display bodily systems since 2005. The show has been operated by Premier Exhibitions, a company presenting and promoting similar travelling exhibits including "Bodies Revealed", and "Our Body: The Universe Within", and other entertainment exhibits. Containing about twenty bodies in total, each exhibition uses real human bodies that have been preserved permanently by a process called "polymer preservation" so that they will not decay. The bodies are prevented from decay by a means of a rubberization process patented in the 1970s by anatomist Gunther von Hagens. Some of the specimens are arranged so that they are performing activities such as playing poker or conducting an orchestra. Questions have been raised about the provenance of the bodies. Although all the bodies are unclaimed and from the Chinese police, Premier could not independently verify more about them, such as whether the bodies are of prisoners that were executed by the Chinese government.
1. Premier Exhibitions only promotes travelling exhibits.
2. Plastic models are used in the exhibition "Bodies".
3. Gunther von Hagens is an anarchist.
4. Some bodies look like performing real life activities.
5. Most of the bodies are police officers.
A – ffluseums
B. Fill in the blanks using the correct form of the words in the boxes.
controversial
preserve
dissect
decay
prevent
specimen
provenance
unclaimed
execute
permanently
1. The doctor needed a…………………………………………………………………of my blood for the
diagnosis.
2. In the USA, some dangerous criminals……………………………………………by injection of lethal
drugs.
3. In Canada, Australia, New Zealand, Latin America, and Western Europe, the death penalty is
a (n)………………………………………………….issue.
4. You should use fluoride toothpaste to fight too th…………………………………………………………………
5. The………………………………………………….of this carpet is unknown and it may be Indian or
Persian.
6. Most food can be………………………………………………………………………………………………….by
canning.
7………………………………………………………….children are looked after by the Society for the
Protection of Children in Turkey.
8. The tragic motorbike accident left him………………………………………………………………………
disabled.
9. Medical students learn Anatomy by……………………………………………..human cadavers.
10. Our teacher prepares different groups of exam papers to…………………………….us from
cheating.
İngilizce Meb Yayınları Yes You Can A2.3 Çalışma Kitabı Sayfa 58 Cevabı
2022 Ders Kitabı Cevapları
Bu İçeriğe Emoji İle Tepki Ver