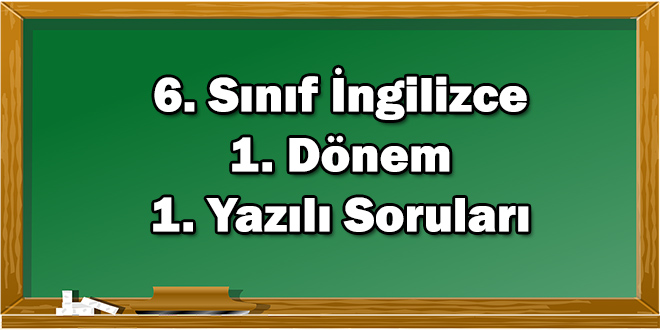 Nasıl ki matematik ve Türkçe dersleri zor dersler ise yabancı dil dersi de bir o kadar da zor. Bu dersin sınavına da iyi hazırlanmalıyız.
6. Sınıf İngilizce 1. Dönem 1. Yazılı Soruları ve Cevapları
WRITE THE TIME WITH NUMBERS
It's ten past nine: 9:30
It's twenty-five past one:
It's five to ten:
It's quarter past eleven:
It's quarter to eight:
WRITE THE TIME WITH LETTERS 
08:30: 0. It's half past eight.
09:15:
09:10:
09:45:
09:55:
WRITE THE CORRECT PHRASES UNDER THE PICTURES 

WRITE THE CORRECT WORDS UNDER THE CORRECT PISTURES 

MAKE SENTENCES ACCORDING TO THE TABLE AS IN THE EXAMPLE

1. Selen likes croissant and coffee, but she doesn't like milk and butter.
2. Kamil…
3. …
4. …
5. …
| | | | |
| --- | --- | --- | --- |
| Enjoy it! | It's my favourite. | Sorry, it's all gone. | What do we have for breakfast? |
MOM: Alex! It's breakfast time! Come here, honey!
ALEX: OK, mom! I'm coming.
MOM: We have cheese, olives, tomatoes and eggs.
ALEX: Do we have jam?
MOM: …………. Do you want honey?
ALEX: Oh, yummy. …………………… . I like it.
MOM: ……
ALEX: Thank you, mom
6. Sınıf İngilizce 1. Dönem 1. Yazılı Soruları ve Cevapları 2018-2019 ile ilgili aşağıda bulunan emojileri kullanarak duygularınızı belirtebilir aynı zamanda sosyal medyada paylaşarak bizlere katkıda bulunabilirsiniz.  
2022 Ders Kitabı Cevapları
☺️ BU İÇERİĞE EMOJİYLE TEPKİ VER!