9. Sınıf İngilizce Hazırlık Ders Kitabı Sayfa 76 Cevapları Meb Yayınları'na ulaşabilmek ve dersinizi kolayca yapabilmek için aşağıdaki yayınımızı mutlaka inceleyiniz.
9. Sınıf İngilizce Hazırlık Ders Kitabı Cevapları

Sayfa 76
Work in pairs. Discuss thefollowing questions with your partner.
1 Is technology a basic human need? Why/ Why not?
2 What do you think the major irmrndticın of the twertieth certury was?
3 How do you think that the advarces ard irrcvaticrs ir techrclcgy have affected cur lives?
Reading
a Scan the article. Find and write the names of the traditional manufacturing processes in the blanks.
THE ERA OF INNOVATION
Life is prone to change. Also, the needs of humans change; as a result of this, innovation is inevitable. "The only thing that is constant is change" said Heraclitus. Let's have a brief look at the innovations that have been made in production process in recent years and try to find the answers to these questions: Has the innovation made a progress on the relevant subject? Do the advantages outweigh the disadvantages?
İnnovation in Industrial Production
Cutting, carving and shaping/moulding have been the traditional production process for many years. Cutting technique can be defined as removing a piece from an entire block by using a special knife, scissors, or a machine. In the 20th century, laser cutting machines took the place of the traditional cutting machines rapidly. Laser cutters are the computer driven tools that use a laser to cut a given material perfectly and cleanly. Laser cutters are far more reliable and faster than the traditional cutting machines. They are much more capable of cutting different materials in desirable thickness. However, they have difficulty in cutting reflective metals like copper and brass. Laser cutters have been widely used in textile industry in recent years as well due to their ability to cut stretchy and easily distorted materials.
The most convenient example to define carving can be sculpturing. In order to make the definition clear, an artist works on a block of stone and gives a shape of his/her sculpture by carving it with a carving knife.
It has been one of the first processing techniques applied by humans in ancient times. With the invention of the CNC (Computer Numerical Control) machines, hand carving tradition is facing extinction due to the fact that it demands a lot more effort and time. CNC machines are computer driven tools that interpret the designs as instructions for cutting and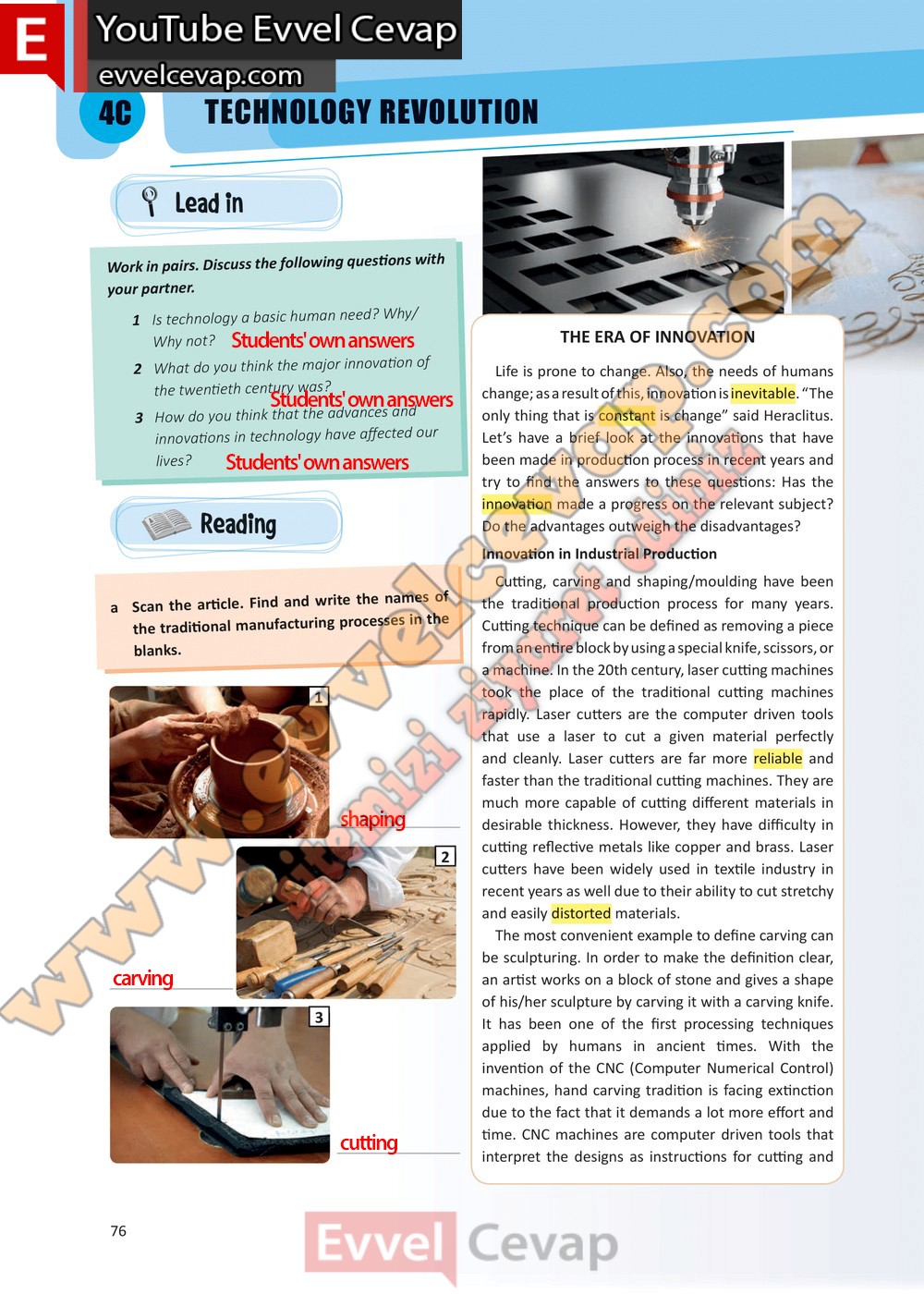 9. Sınıf Meb Yayınları İngilizce Hazırlık Ders Kitabı Sayfa 76 Cevabı ile ilgili aşağıda bulunan emojileri kullanarak duygularınızı belirtebilir aynı zamanda sosyal medyada paylaşarak bizlere katkıda bulunabilirsiniz.
2023 Ders Kitabı Cevapları